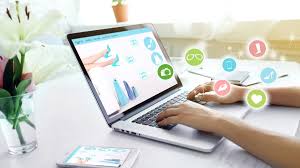 The Internet is filled with competition and everyone tries their best to gain the top position. That's where we see eCommerce stores as well, pushing through the flock and trying to climb their way to the top. But gaining visibility comes from advertisement and advertising your product and gathering the attention of your audience. At the same time, if your business has a variety of products and a list of dedicated customers then selling might be a little complicated here.
As a solution to the tangled strings of selling online, data feed management is the new fundamental tool for e-commerce.
Data Feed Management And How It Works
In simple words, through data feed management you can advertise and manage the product listings of your business. By using data feed management, it's easier to distribute your product information to different channels. That too without having to worry about different channel specifications and recommendations of how to distribute product information on their page.
This allows eCommerce businesses to pave their path for a smooth and managed means of distributing product information on channels. This happens without having the entire process complicated for the business especially if they have a range of products and there are higher chances of wide audience attraction.
Tools For Data Feed Management
Data feed management tools are online software tools that only require the eCommerce business to upload their basic product information that has to get distributed and managed.
A catalogue management tool can be used for this where as an online eCommerce business you can go with a hassle-free process of uploading information. This includes providing the software with updated product prices, the available stock exchanges and the list goes on.
The Benefits Of Using Data Feed Management
For data feed management you need to use the best data management software available. As a suggestion here, make sure you have a strong backing of research before you select the best one for your business.
Here are all the ways how data feed management can help solve challenges a business is likeable to facing:
Right after you provide your product catalogue, through data feed management, there are higher chances of visibility. In reality, visibility is what every business wants but to attain that is the challenging part too. With data management your product listings get distributed to multiple social platforms. This distribution is kept in accordance with the local boundaries to have a better reach to the local initially.
You also avail machine learning strategies and a data management tool performs quite remarkably. Plus, if there's anything that doesn't stand well with the boundaries of the social platform then it makes sure your content abides by them for better results.
It creates campaigns by eradicating the barriers that have any chance to appear right after the campaign is launched.
The Takeaway
 Data feed management is now an essential to eCommerce businesses. The benefits it comes with are a clear representative of why and what makes them so important for eCommerce businesses today.
For data feed management, there are a number of online software tools that come with a hassle free process if used appropriately.